Allied Auto Body is more than just a name, it's a promise. We know that when our customers are looking for a collision repair shop, they want a place that not only takes great care of their car, but of them as well. So, we specialize in quality accident repair with a focus on overall customer experience and a lifetime warranty on all repairs.
Allied Auto Body offers free damage estimates for all auto body repair needs, ranging from windshield replacement to major paint and body repairs. When you call us toll free at 1-888-546-4695, we'll happily arrange for car towing, as well as contact your insurance adjuster to get the process started quickly. We have experts for your particular insurance carrier and can answer all of your insurance claim questions.
Because to us, it's not just about the car, it's about the care.
Once your car is in our capable hands, we encourage you to check the car's repair status through our new online car repair status tool. Here, you can see the progress on your car's improvement and feel more comfortable knowing what body repairs are being done and when. This tool adds the extra level of care that our customers not only deserve, but should expect.

The Allied Auto Body Team
Our highly-trained and knowledgeable team members are experts in their fields. Our shop is equipped with auto collision specialists in paintless dent repair, auto glass repair and replacement, car towing and all forms of body repair.

Your Satisfaction Guaranteed
Customer care is our number one priority. We are equipped to handle your car from start to finish. When you call us, we arrange for car towing, rental cars, insurance claims and auto body repair needs, allowing you to relax from day one to day finished.

Lifetime Warranty
Allied Auto Body backs all repair work with a written, lifetime warranty. Any defects in workmanship will be corrected free-of-charge, bringing you peace of mind and peace of wallet.

Convenience
For your convenience, we are open Monday through Friday, 7:30 am to 5:30 pm
At Allied Auto Body we offer a fresh perspective in collision repair. Customer driven, we focus on cycle times, ensuring that your vehicle is returned to you in pre-accident condition in a timely fashion.
Quality is understood and never compromised. Using state of the art collision repair technology and repair methods, we exceed all expectations in the repairs we make. Cars are large investments and we treat them as such.
Allied Auto Body is dedicated to excellence, and because of that, you don't have to settle for what you're accustomed to with auto body repair. Our alliance is with you.

We're part of your community
By treating our customers like neighbors we not only create life long customers, we cultivate life long relationships and by doing so establish ourselves as active members in our growing community.

We'll be your advocates
We understand how difficult it can be to work with your insurance company after you've been in a wreck. When you bring your vehicle to Allied Auto Body, you won't have to handle any of it. We will work with your insurance company to make sure that you are receiving the best coverage and care.

We take pride in our product
We are in business to create a new vision for an aging industry, to ensure that you never have to settle when it comes to quality repairs to your vehicle, and to provide our customers with service backed by cutting edge technology and equipment for vehicles with cutting edge technology and equipment.
I highly recommend this body shop. Great customer service with a very knowledgeable and friendly staff. My car was fixed in a timely manner and looks as good as when I purchased the vehicle! I will encourage all my family and friends to use Allied Auto Body.
Incredibly customer service oriented and thorough. They communicated the status of my repair throughout the process & happily answered any questions I had about my vehicle. They also helped me manage my insurance claim, making the entire process seamless & easy.
The repairs to my car were done in a timely manner. The employees were friendly, professional, and very easy to deal with. I would recommend Allied Auto Body to friends and family.
Thank you for choosing Allied Auto Body. We are committed to providing you the best experience throughout your repair process. Please complete the following information so we can learn about your experience and improve our services. Selected stories will be posted online for others to read, while keeping your personal information confidential.
Schedule your appointment online with one our specialists
Monday - Friday: 7:30am - 5:30pm
Our goal is to make the vehicle repair process a convenient and positive experience.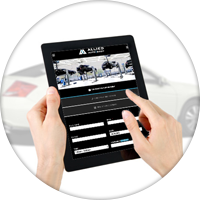 01
Vehicle Drop-Off
Vehicle Drop-Off & Log-In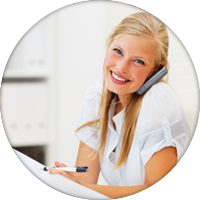 02
Insurance Authorization
Insurance company authorizes repair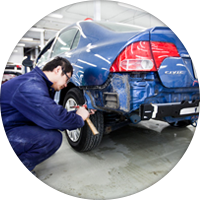 03
Repairs Begin
Vehicle is assigned to a technician and repairs begin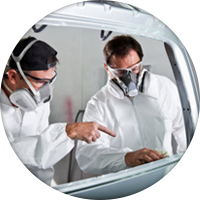 04
Vehicle Inspection
Any repairs are inspected and prepped for painting/ refinishing.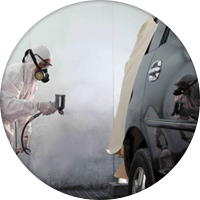 05
Painting, Refinish & Polish
Vehicle is refinished with eco friendly primer, paint and clear coat in state of the art energy efficient paint booths.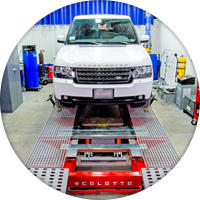 06
Clean Vehicle
Vehicle is washed and vacuumed and prepared for delivery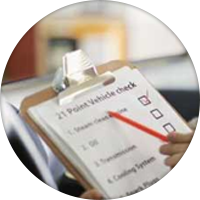 07
Quality Assurance
Service advisor performs a quality control inspection and deems vehicle ready for delivery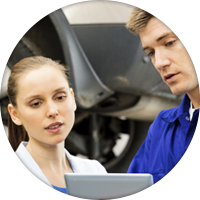 08
Pickup Vehicle
Visit collision center to go over vehicle with your service advisor and complete final paperwork