Let us partner with you in restoring your vehicle
Living in Mississippi makes automotive hail damage an inevitable event in the life of a vehicle owner. We are here to help you through the process of repairing your hail damaged vehicle. Our process of paintless dent repair delivers the highest quality repair available. Schedule your hail estimate today and we will walk with you through the entire process of restoring your vehicle to its pre-damage condition.
Paintless Dent Repair
We specialize in hail damage repair using Paintless Dent Removal techniques. Through metal manipulation, we are able to "massage" the panel back to it's original shape without damaging the structure of the vehicle or harming the paint. This technique preserves the original, factory finish of the car. The process of Paintless Dent Removal also saves the customer time and money. These vehicles were repaired at a fraction of the cost that a body shop would charge to repair and paint the panel.
Paintless Dent Removal not only saves you money for the repair cost, but we can save you money on your insurance costs as well. We work with all insurance companies to ensure your car is returned to its previous condition without the need to paint your vehicle. We will also work with you to help save as much money as possible on your deductible.
Learn More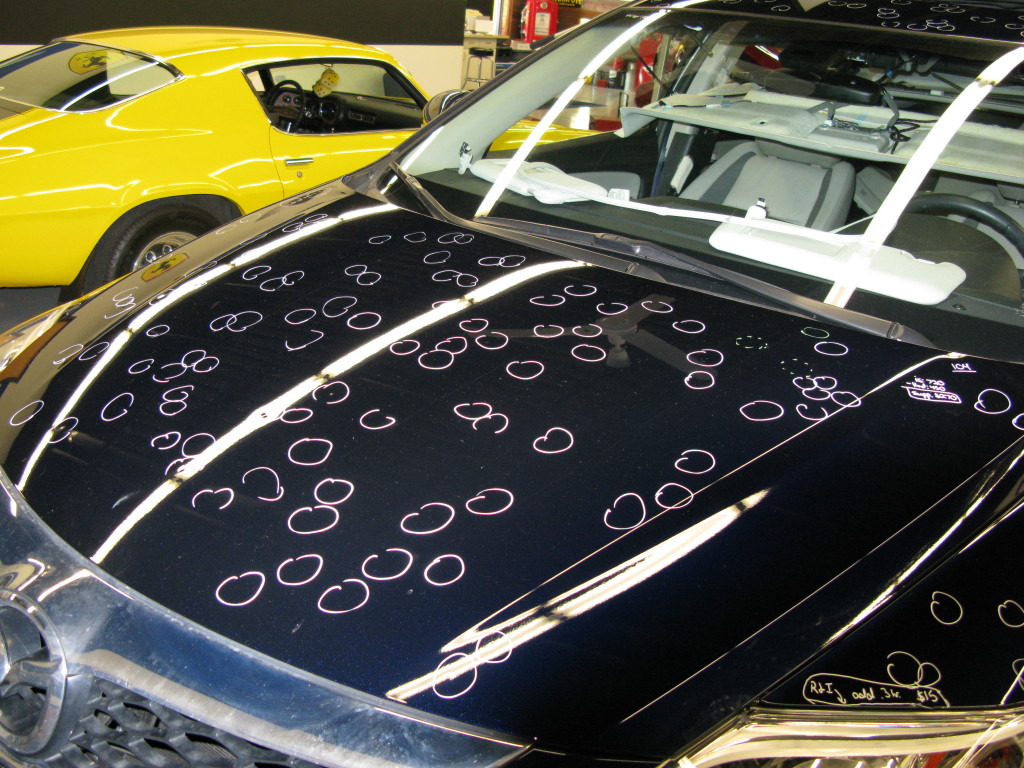 Frequently Asked Questions
Will claiming hail damage with my insurance company increase my rates?
No, claiming your hail damage will not increase your rates. It is technically referred to as "An Act of Nature" and will not increase your rates ever.
Will you work with my insurance company? Do you deal with insurance claims?
Yes! It is very common to go through insurance with larger claims, especially hail damage. We can help you navigate working with your insurance company to make the the claims process as pain free as possible. See below about hail insurance claims
Your insurance company is not necessarily looking out for your best interest.
It is common for them to underbid a repair, suspecting that some customers won't actually have their vehicle repaired.
It is important to have your vehicle repaired,
especially if you file a claim, because your insurance may not honor future claims if you can not provide proof that you had the vehicle's previous damage repaired.
You, as the customer, have the right to choose who completes the repairs
. Some insurance companies will lead you to believe that you have to use one their "recommended" or "preferred" shops. This often has more to do with who gives the insurance companies the biggest discounts and not who necessarily does the best work.