Faster, more cost-effective, and maintains your car's value
Equipped with specialized tools, our Paintless Dent Repair team of certified technicians meticulously maneuver indentations from behind the damaged area, restoring the frame to its original shape and sheen.
Furthermore, our Paintless Dent Repair process will not damage your original paint. Because vehicles today are constructed with thinner-gauged metals and polyurethane paints making their frames more pliable than their rigid predecessors, we have greater ability to mitigate structural damage without harming the surface.
The meticulous re-sculpting process not only allows for preservation of the original paint finish, but also decrives down repair time and costs, including reduced rental car fees.
Is Paintless Dent Repair Right for You?
From minor dents and dings to major hail damage, a wide range of structural defects  can be repaired using PDR. Stop by our shop to get a free computerized estimate of all your auto body damage & to see if your situation qualifies for Paintless Dent Repair. Call or email the Allied Auto Body Care Center to arrange services and estimates.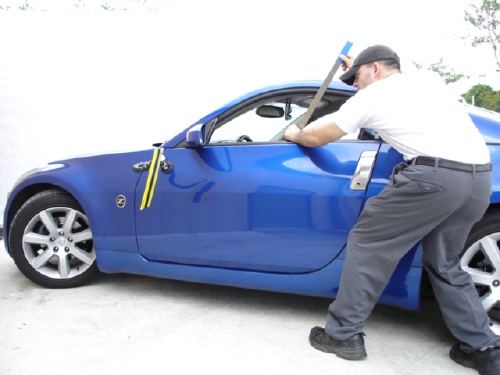 Frequently Asked Questions
What is PDR (Paintless Dent Repair)?
Paintless Dent Repair (PDR) is the process of removing minor dents, dings, and hail damage without sanding, priming, and painting. Special tools are used to massage the backside of the metal to restore the panel to it's original condition without effecting the factory finish. PDR is the only auto body process that can return your vehicle to true factory condition.
Can all dents be fixed with PDR?
Most non-collision dents can be repaired with paintless dent repair, however there are some situations that can interfere. Dents that are on the edge of the panel may not be able to be repaired. Some panel edges are seamed together with another sheet of metal making it impossible to gain access. If the paint is cracked or damaged, a complete repair is not possible using the PDR method. Paintless Dent Repair is best on later modeled vehicles with factory paint. Vehicles before 1985 may have lacquer based paint which is not flexible as the automotive paint used today.
Will my dents come back?
Absolutely not! Paintless Dent Repair is a permanent repair for minor dents, dings, and hail damage. DentSmith guarantees our work for as long as you own your vehicle.
Will my paint be damaged?
No, Paintless Dent Repair will not damage your paint (as long as performed properly). The factory paint on today's vehicles is very flexible and will not be damaged from the PDR process. It is important to make sure you only use a qualified PDR technician for your repairs.
How is PDR performed?
PDR (Paintless Dent Repair) is performed by accessing the backside of the panel and meticulously massaging the back of the damage with special rods and tools. A tennis ball sized dent can sometimes take over a hundred small pushes to repair the dent. Special lights are used to see the details of the damage. The dents do not just "pop" out and there is no dry ice or suction used in the repair process. PDR is a specialty trade that can take years to master.
Why should I choose PDR for my repair?
There are many reasons to choose the PDR process for your repair.
Paintless Dent Repair is the only repair process that allows you to keep your factory finish. Repainting the damage not only has the possibility of the color not matching, it also diminishes the value of the vehicle.
Repair time is a major plus using the PDR method. Most dents can be repaired while you wait versus 3 to 5 days in the shop.
Cost of the repair is another reason to choose PDR. A small, coin-sized doording on your vehicle would typically cost you between $400-$750, depending on location and color. That same dent repaired with PDR will cost you between $75-$150.
Will my insurance pay for a PDR repair?
Absolutely! Paintless Dent Repair is the insurance industry's preferred method of hail damage repair. Minor dents and doordings typically cost less than most deductibles, in those cases it may be best to not even file a claim. In the cases of larger damage where there is no paint damage, DentSmith will be glad to work with you and your insurance company on what the best option is for your repair.
I've got several dents, is there a discount?
Yes, we will work with you on the pricing for multiple dents. If there are more than one dent on the same panel, we will repair the rest of them for very little extra. If you have multiple dents on different panels of the vehicle, we will come up with a package discount to repair the entire car (this excludes hail damage).